Varitronics Inc.
Leading the way with innovative Doctor ~ Nurse Call System technology.
Call us at 1-800-345-1244.
---
5500 Room Panel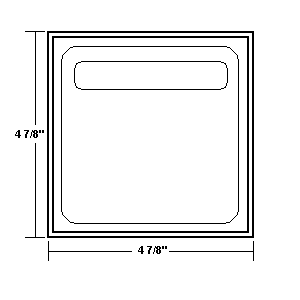 5500 room panel
dimensions shown with mounting bezel.
Material: Panel overlay is made of 10 mil nitrogen hardened polycarbonate with room identification slot, and is laminated on anodized .060 aluminum.
Color: Pantone gray PMS 431/420.
Mounting Bezel (required): grey, glass filled injection molded polypropylene; supplied by Varitronics.
Back Box (new construction): standard 2 1/2" deep two gang switch box; supplied by others. DO NOT USE outlet boxes or beveled corner boxes.
Mounting Plate Bracket (existing construction): Caddy MPLS-2 recommended; supplied by others.