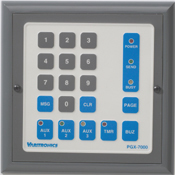 PGX-7000 Keypad
Varitronics' paging system, the PGX-7000, introduces a new level of interoffice communication, available as either a stand alone paging system or integrated with our Hard Wired Call Systems, all on the same keypad.
This integrated system increases the efficiency of staff management simply by entering information into a keypad that is located inside each room. Simple, easy to learn instructions mean mastering the system is a breeze. Instantly, the message is received, telling the recipient where they are needed. For instance,when a doctor needs assistance, a simple code is entered into the keypad and an assistant is instantly notified with the room automatically identified.
The PGX-7000's message capabilities can signal the staff with briefs, charts up notification, phone calls, patient arrivals, and calls for assistance. Also, the convenient "timer call back" feature notifies staff when timed tests are complete so that patients aren't left waiting indefinitely.