Z9000 desk top unit shown below.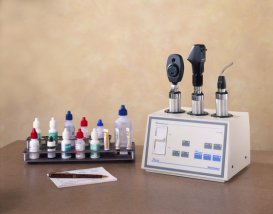 Click pic for full size view.

In your busy practice, the more time you can save during an examination the better. This philosophy led to the development of the Varitronics' Ophthalmic Control System more than three decades ago. This unique electronic system can be programmed to automatically adjust room and fixation lighting, power your hand instruments, and control the slit lamp and indirect ophthalmoscope.
During an examination, it serves as a time saving assistant. Designed to reduce the repetitious functions of your everyday medical life, its operation is simple: lift the instrument or turn your slit lamp on; room and fixation lighting will be automatically adjusted to your preset level.
Several models are available, from the Z9000 desk top unit, to cabinet mount models that can be built into your custom designed refracting desk. If your existing office has incandescent lighting, you can receive the benefits of our Z9000 Series with our wireless controlled model. It only requires changing the light switch in the room. For new construction, we have a simple electronic pre wire package that can be easily installed. For more details, call Varitronics at our toll free number 1-800-345-1244.