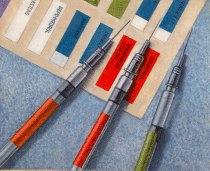 Avoid dispensing incorrect
medications in the O.R.

Varitronics' Custom Medication Labels eliminates the risk of dispensing O.R. tray medicines incorrectly through color coding for quick identification. These labels employ a high-tack adhesive to insure they won't fall off and are die cut for easy handling. Please contact us for pricing and details. Besides our custom labels, Standard Ophthalmic Medication Labels are available too.
Features
Color coded

High-tack adhesive

Die cut

Customized labels

Standard ophthalmic labels available